Adapter SSD NVME/SATA dysk M.2 USB C 10GB
Obudowa SSD NVME/SATA PCIe dysk M.2 USB-C 3.1
Obudowa SSD NVME/SATA PCIe dysk M.2 USB-C 3.1
Obudowa jest kompatybilna z dyskami M.2 interfejsem SATA jak i PCIe (NVMe).
Plug & Play - podłącz i korzystaj, bez instalowania sterowników.
Specyfikacja:
Kod producenta:

 

SD03
Obsługiwane protokoły:

 

SATA/NVME M.2 (obsługa podwójnego protokołu)
Kolor:

 

Szary metalizowany
Obsługiwana pojemność:

 

M.2 dysk do 2TB
Wymiary: 51x66x13 mm
Materiał:

 

Stop aluminium
Waga produktu:

 

140g
Działą z większością systemów operacyjnych, takich jak Win XP/Win 7/Win 8/Win 10/Win 11/Mac OS/Linux.
Zaimplementowany chipset to RTL9210B z funkcją UASP i TRIM.
Bardzo dobre odprowadzanie ciepła poprzez metalowa obudowę !
1. złącze M-key NVME (PCIe)
2. złącze M+B-key SATA
Do slotu pasują dyski z kluczem "M key" i "M+B key" o różnych długościach (2230, 2242, 2260, 2280).
Bardzo szybka transmisja aż do 10GB/s co przekłada się na prędkość transmisj i do 900+ MB/s dla dysków NVMe i 440+ MB/s dla dysków SATA.
UASP I TRIM
Chipset wspiera technologię UASP (USB Attached SCSI Protocol) i instrukcje TRIM (ATA Data Set Management Command). Dzięki UASP urządzenie USB może kolejkować komendy i wykonywać kilka poleceń w jednym czasie. Zwielokrotnia to transfery odczytu i zapisu o średnio 30% w porównaniu do tradycyjnych urządzeń USB. Polecenie Trim informuje dysk SSD, które bloki danych nie są już używane i pozwala na ich ponowne zapełnienie danymi. To także zwiększa wydajność dysku oraz wydłuża jego żywotność.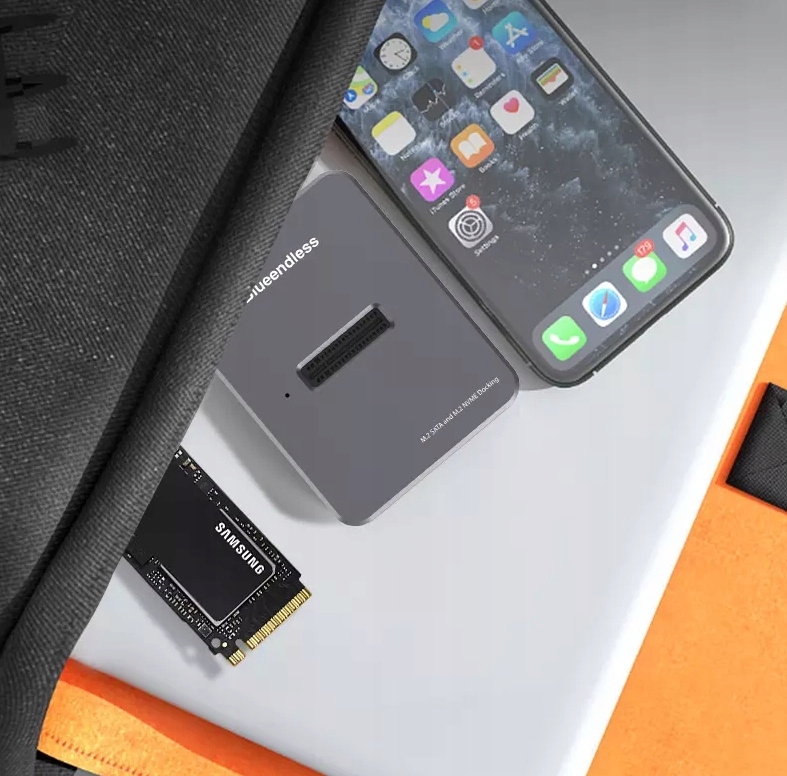 Bardzo łatwy montaż beznarzędziowy, wystarczy wciśnać adapter do gniazda adaptera.
Zestaw zawiera:
1 x obudowa SSD USB 3.1 GEN2 Type-C NVMe/SATA
1 x kabel USB 3.1 typu A / C (podwójny) do USB typu C
Antypoślizgowe podkładki silikonowe na dole.
Antypoślizgowa konstrukcja adapter M.2 pozwala bardziej stabilnie utrzymać adapter na biurku.